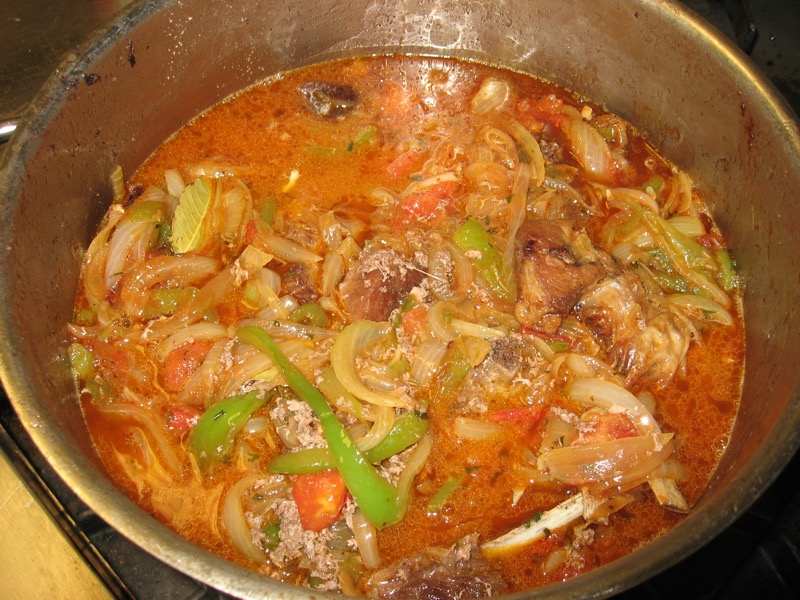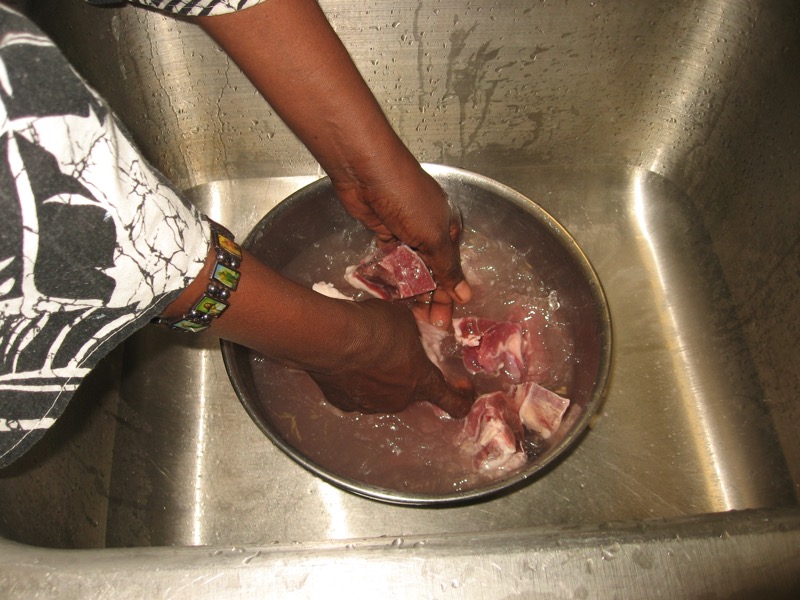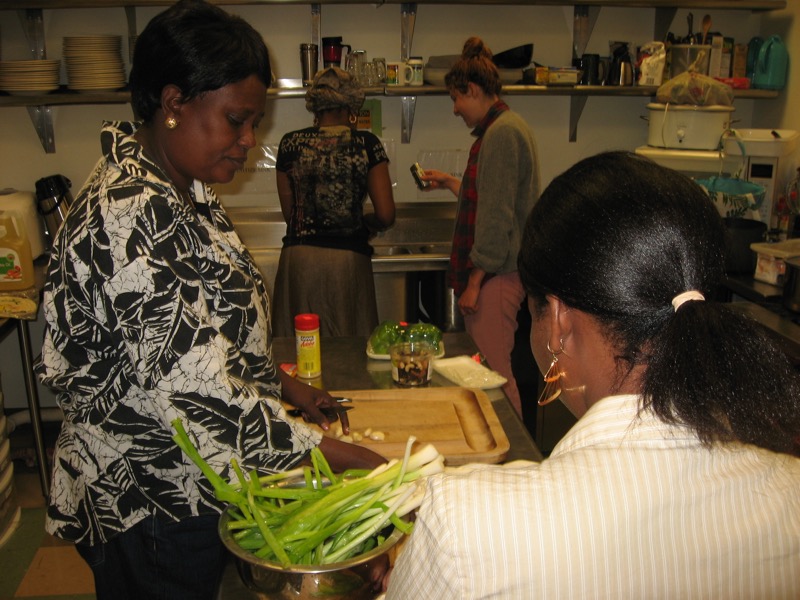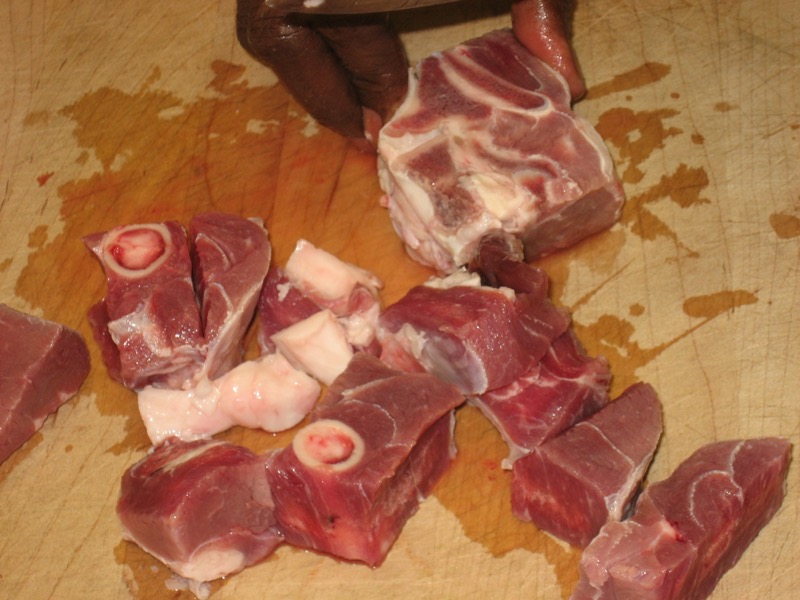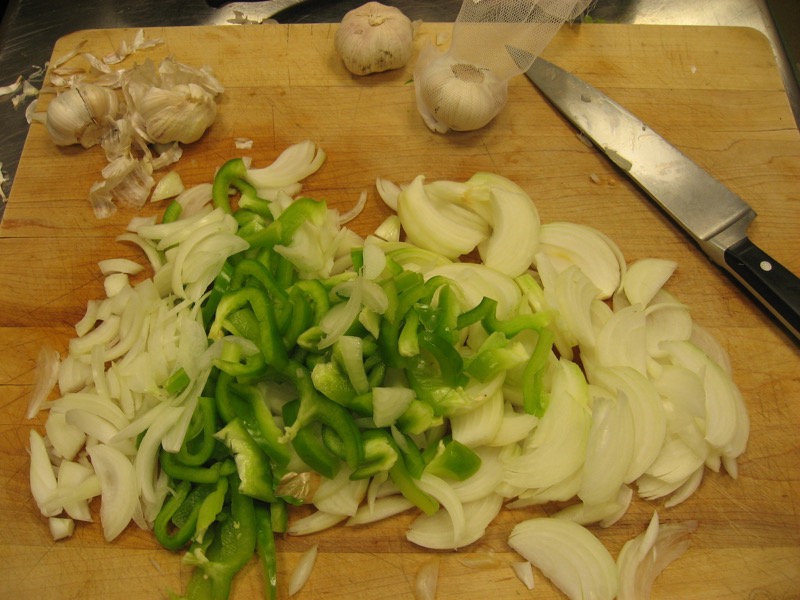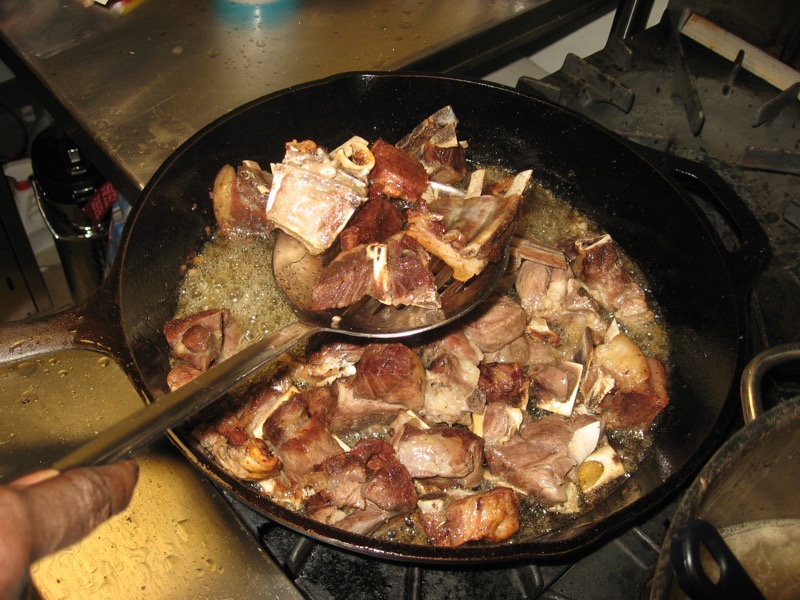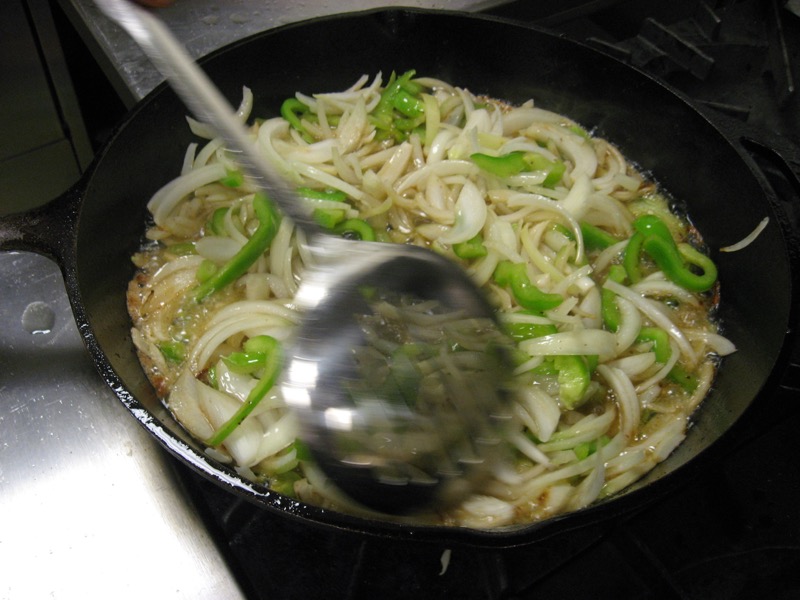 As Constance Kabaziga, from Kinshasa, Democratic Republic of the Congo, taught Lindsay Sterling in Freeport, ME.
Note: Bone-in goat meat is chewy and rich. This dish should come with encouragement to guests to pick up the meat pieces with their hands and gnaw the goodness right off the bone. Constance served this dish as part of a feast with rice and scallions, stewed green bananas, fried sweet plantains, an orange-ginger drink, fried ground beef packets, and beans in red sauce.
You can find goat meat at African and/or Halal markets. It's usually in the freezer. Sometimes the tradition is to ask for it at the counter, and an employee will cut it into chunks for you with a vertical band saw. It's best to get your meat at least the day before you want to cook so you have time to thaw it.
Cooking time: 1 hr
Makes: 8 servings
Ingredients
4 pounds bone-in goat meat, cut into 2-inch pieces
water
1 Tbsp salt
1/2-1 c. vegetable oil
1/2 green pepper, thinly sliced
1 onion, thinly sliced
6 oz. tomato paste
salt and pepper to taste
Instructions
1. Cover the goat meat in bowl of water, massage, pour water off. Repeat one more time to rinse meat.
2. Put goat pieces into a large, lidded pot. Cover them with water by 2 inches. Add 1 Tbsp salt. Boil until meat pulls cleanly off of bone, about 40 minutes.
3. Take the goat pieces out of the broth and put them in a strainer over a large mixing bowl. Reserve the broth for making the sauce later.
4. Cover the bottom of a large, deep skillet generously with oil (vegetable or peanut). Turn heat on high. When oil is shimmering, sear batches of goat meat. Searing means that you allow the surfaces of the meat to turn dark brown and a little crusty, which amps up the meat flavor. Searing requires the pan to be super-hot so you don't want to stuff the meat into pan -- work in batches so you have space around the pieces. As the goat pieces are done searing, transfer them into a large lidded pot with a slotted spoon.
5. When you're done searing all the goat meat, turn the heat under the frying pan to medium (the same frying pan you used to sear the goat). Add the onions and peppers in the oil remaining in the frying pan. Once they're soft, add tomato paste and cook stirring frequently for a couple minutes. Add as much reserved goat broth to the frying pan as will fit. Scrape the bottom of the pan to incorporating all the flavor that cooked on there so far. Pour the pepper-onion-tomato-broth over the goat meat in larger pot. Cover the pot and simmer until ready to eat.